For the 3rd year in a row, family law attorney Ryan Gregerson receives the "10 Best Under 40"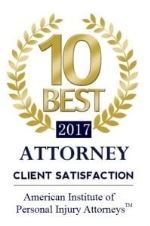 attorney-client satisfaction award from the American Institute of Family Law Attorneys.
"We are pleased to see Ryan get recognized, again, for his efforts to strive to provide excellent client satisfaction", Jeff Butler explains. "Ryan chairs the family law department at Pearson Butler. His efforts to help clients have a satisfactory experience while going through some of the most difficult times in their lives is to be commended."
The American Institute of Family Law Attorneys understands the importance of attorneys striving to help their clients have a positive experience. "Attorneys should be recognized for excellence in their field and that potential clients can benefit from this knowledge. American Institute is an impartial third-party attorney rating organization…. The American Institute's Family Law Division recognizes the excellence of practitioners in the field."
The "10 Best" is a prestigious honor for the Attorney as each Attorney must:
Be formally nominated by the Institute, client, and/or a fellow Attorney;
Have attained the highest degree of professional achievement in his or her field of law; and
Having done so with an impeccable Client Satisfaction rating.
Many Attorneys can achieve high degrees of success but this is oftentimes at the expense or satisfaction of the most important person in the case–the client. American Institute's Family Law Division looks for Attorneys that have achieved unparalleled success but most importantly have done so for the benefit of their client. Very few Attorneys can do so and our organization recognizes this significant achievement.
"We want our clients to make educated decisions when choosing their attorney," adds Jeff Butler. "We want our attorneys, like Ryan, to reach the top of their profession while remembering the critical importance of keeping clients satisfied with their legal representation."