Truck Accident Lawyers Serving Utah
Putting Over 300 Years of Combined Experience to Work for You
Of all traffic collisions in Utah, those involving large commercial trucks can be the most tragic. Victims of these collisions are frequently the occupants of other vehicles, as opposed to the truck operators, according to nationwide truck accident statistics presented by the National Highway Traffic Safety Administration (NHTSA). Victims of these collisions may experience catastrophic injuries and may even lose their lives. They and their families may be left facing uncertain futures. Pearson Butler attorneys understand that this is a stressful and difficult time. Don't face it alone.
During these difficult times, the skilled professionals at Pearson Butler can offer the caring support and experienced guidance you need. Pearson Butler's attorneys are experienced in understanding truck accidents in Utah. We work with experts to ascertain the primary cause of a collision in order to assign liability. We know how to help clients by building compelling cases based on physical evidence and the testimony of expert witnesses to maximize compensation.
If you want a top-notch legal team on your side, call (800) 265-2314. Pearson Butler has over 300 years of combined legal experience to tackle your truck accident case.
Underlying Causes of Truck Accidents
A truck accident may have one or more causes or factors that contribute to its occurrence. For example, an overtired truck driver may not see a large pothole in the road, which causes a blown tire that projects into the path of another vehicle, thereby causing an accident. In this situation, it is important to consider the truck operator's responsibility, as well as the potential liability of the municipality or other government entity that may be responsible for maintaining the roadway. Looking at an accident from every possible angle will help your lawyer understand the primary cause of your accident and identify all sources of compensation.
The truck accident attorneys at Pearson Butler deal with Utah cases involving:
Defective or poorly maintained truck parts
Dangerous roadways
Truck driver fatigue
Hours-of-service violations by drivers and trucking companies
Overloaded trucks
Improperly balanced or unsecured truck cargo
Speeding or driving too fast for road/weather conditions
Unsafe lane changes and merges
Drunk driving
Driving under the influence of illegal or prescription drugs
Federal Trucking Regulations
The Federal Motor Carrier Safety Administration (FMCSA) has put forth several regulations to make truck drivers' jobs safer.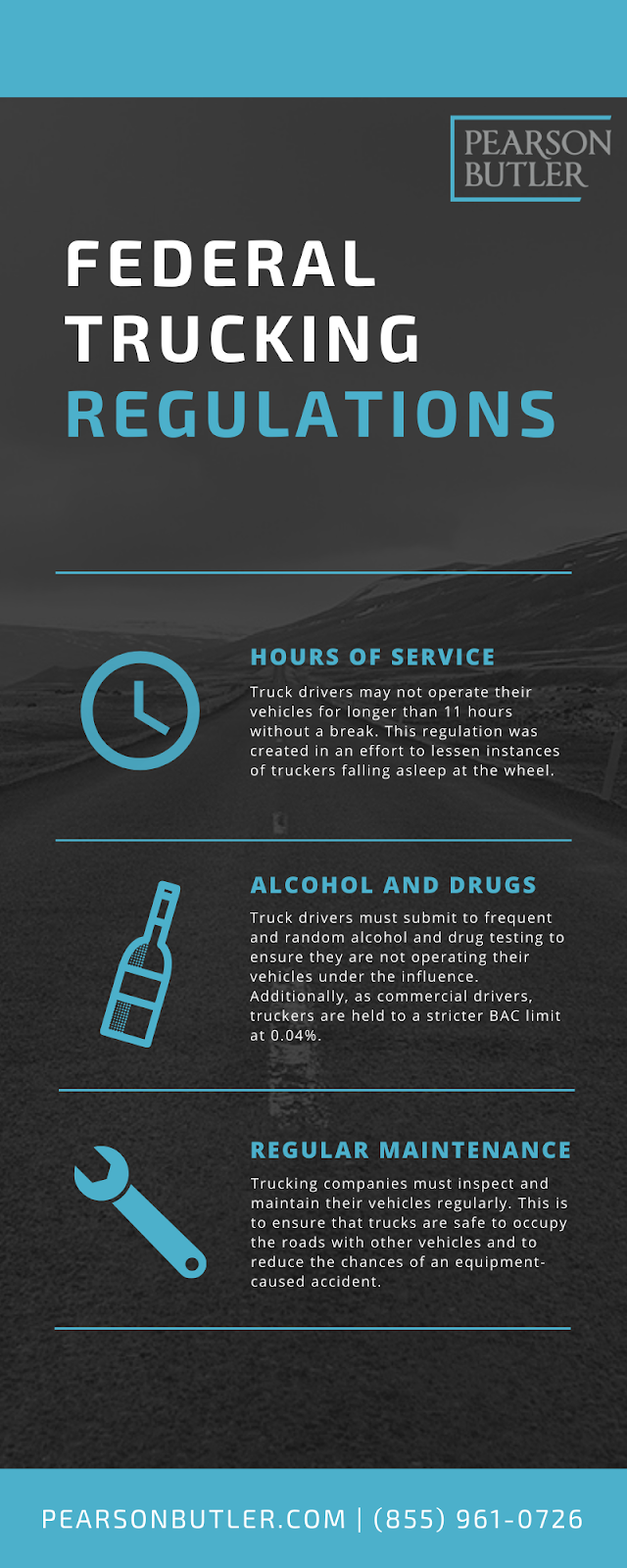 These regulations are meant to protect both truckers and passenger vehicle occupants. When truck drivers (or their operating companies) deliberately violate these regulations, they may be held liable for any accident that occurs as a result of this negligence.
Find out what caused your accident and who is accountable. Call (800) 265-2314 today to schedule your free consultation. Pearson Butler has offices in South Jordan, Bountiful, and Utah County to serve you.