Super Lawyers Recognizes Pearson Butler
As one of Utah's leading full-service law firms, Pearson Butler is always striving to provide our clients with quality legal counsel and top-tier service throughout the legal process. As true exemplars of that approach, two of our family law attorneys were recently selected to the 2020 Rising Stars list: Attorneys Ryan C. Gregerson and Kelli J. Larson!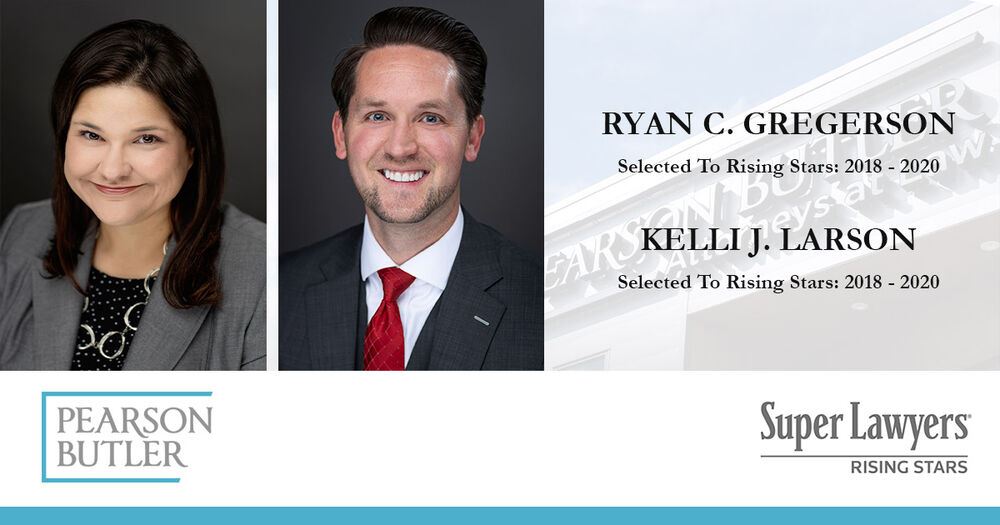 For both attorneys, this is the third consecutive year that they have been chosen to the Rising Stars list, which is curated annually by Super Lawyers, an independent legal ranking organization. To be eligible for the Rising Stars list, an attorney under the age of 40 must first have a positive standing with their peers and clients. After identifying top legal talent through peer nominations and managing partner surveys, the Super Lawyers team then measures each candidate against 12 indicators of professional success.
These measures of success include key areas like:
Pro bono and community work
Bar and professional membership activity
Verdicts and settlements won
Unique licenses and certifications
Representative clients
Past experience
Other honors, accolades, and awards
Scholarly lectures, writings, and contributions
Position in law firm
Education and employment background
Transactions
Other achievements as relevant
Each candidate receives a point total based on their performance, and those with the highest scores serve on the Blue Ribbon Panel for their practice area. Only those attorneys who pass the Blue Ribbon Panel peer evaluation will be selected to the Rising Stars list for their region and practice area.
Fewer than 2.5% of all attorneys in each state will ever be included on this list. On behalf of our team at Pearson Butler, we'd like to congratulate Attorneys Gregerson and Larson for earning this significant accomplishment for the third year in a row.
Do you need to speak with an experienced attorney? Contact our legal team today at (800) 265-2314 for a consultation.