Joshua Tandy is a Utah business law attorney at Pearson Butler, where his practice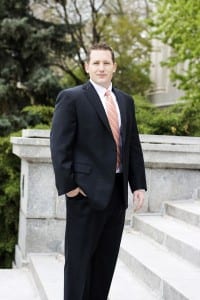 focuses primarily on business transactional work. Josh largely works with high net worth individuals, small business owners, and entrepreneurs to ensure their varying strategic goals are achieved. His work requires him to be knowledgeable in contract negotiation, secured and tiered finance, securities regulations, entity structuring, corporate governance, and estate planning. Prior to joining the firm, Josh was an associate and global team manager at Goldman Sachs & Co. where he worked within its Private Wealth Management subdivision.
I recently spoke with Josh and asked him to share what motivated him to become a lawyer. He shared the following with me:
"When I tell people that I'm an attorney, I get varied reactions (including some pretty funny lawyer jokes), but one question is almost constant: why? Although it is an easy question for me to answer, I think that my response is one which will provide insight as to why you should trust me to represent you with your most valuable asset, you. In short, my decision to become an attorney does not derive from one singular event, rather it is one that I was led to make as the result of several transformational life experiences.
My journey to becoming an attorney started in the fall of my senior year of high school when I found my brother, John, lifeless after he had committed suicide. His passing was horribly tragic, and it left everyone in my family, especially his wife and two boys, with a very real and palpable void in their lives. Although his passing continues to be a difficult reality, it has also had a very profound shaping force on my persona. John's death became the compelling force of many personal changes in my life. The sum total of those changes is my intense motivation to (i) reach out and help individuals within my sphere of influence and (ii) abundantly excel in my personal endeavors. All of my personal and professional ventures (including becoming an attorney) stem from that instilled rationale which was largely shaped in the aftermath of John's passing.
Finally, my decision to become an attorney and practice law was cemented during my earlier entrepreneurial efforts as a young husband and father. It was during the merger of one of my companies with a similar but much larger institution that my desire to become a lawyer was formally finalized. During the merger, as a young business owner, the vulnerability I felt was acute. All I could think about was my employees; their spouses; their children; and how their mortgages were going to be affected by what I did and said during the merger. Ultimately, the merger went well, but I learned a valuable lesson: all of my fears were mitigated by the knowledge that our negotiations, entity structuring, and governing contracts had all been completed by a doctor of the law. It was then that I made the realization that I too wanted to help others during their pivotal life experiences by becoming an attorney and practicing law."
We are grateful that Joshua Tandy has joined our legal team. He brings a unique business law background that is uncommon in the Utah legal arena. Feel free to contact Josh regarding any of the following business law matters:
Business Entity Formation
Corporate Compliance
Bankruptcy
Estate Planning
Franchise Law
Tax
Tort Defense
Trusts and Estates
Work Outs
Contact a Utah Business Law Attorney
Feel free to call our office at (800) 265-2314 to schedule a consultation with Josh Tandy or our other Utah business law attorney team members. With offices in South Jordan and Bountiful, you can schedule a free initial business consultation at a time and place convenient for you.