Our Firm's New Building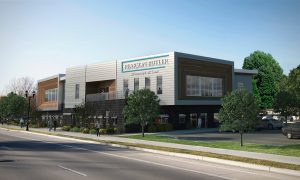 This picture is an artist drawing of our firm Pearson Butler's new building that is being built at 10600 S. Redwood Road in South Jordan, Utah. We are very excited. We anticipate moving into the building this fall. Pearson Butler continues to grow, and we believe our main office is now the largest law office in the South side of Salt Lake Valley. Pearson Butler currently has offices in South Jordan, Bountiful, Richfield, and St. George.
Pearson Butler is a full-service law firm with attorneys practicing in the following areas: business, intellectual property, estate planning, probate, litigation, personal injury, employment law, family law, bankruptcy, mergers & acquisitions, criminal defense, appellate law, tax & IRS resolution, and medical malpractice.
Please call (800) 265-2314 to schedule an appointment
Posted By
Pearson Butler
Categories: